When considering artificial disc replacement surgery, patients want to know: What are the chances that the surgery will go smoothly, providing relief from back pain and a return to normal activities?
What are disc replacement surgery success rates?
Disc replacement surgery is a procedure in which the damaged disc is removed and replaced with an artificial disc. The procedure may be performed in the lumbar spine (lower back) or cervical spine (neck area). You may also see this procedure referred to as "artificial disc replacement surgery" (ADR surgery), "total disc arthroplasty," or "total disc replacement" (TDR), or simply "disc replacement." Surgeons count the procedure as a success if the patient can return to normal function, experiences no major complications, and does not require additional surgery down the road.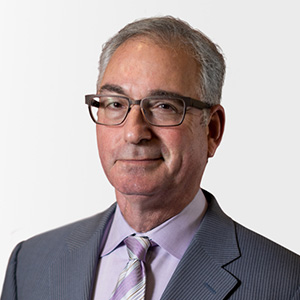 So, what are the chances of success? The short answer: It depends. Disc replacement surgery is safe and effective, but your chances of success will ultimately depend on your medical situation and whether you need the surgery in the cervical (neck) or lumbar (lower back) area of the spine, according to Scott Blumenthal, M.D. at The Center for Disc Replacement, a spine surgeon on the medical staff of Texas Health Center for Diagnostics and Surgery.
Dr. Blumenthal shared, "In the cervical spine, we're treating nerve issues, such as a pinched nerve or a pinched spinal cord which frequently cause arm pain or weakness. Most of our patients come back to the office and tell us they have relief of their neck and arm pain. In the lumbar spine, which is a more complex structure, we're treating back pain caused by disc degeneration or an arthritic disc. We're seeing about 91% of patients after surgery describe an improvement in their pain and the ability to perform everyday activities." 
What the Experts Say About Disc Replacement Surgery
Dr. Blumenthal adds, disc replacement surgery has been highly studied within the spine community. "Over the last 10 to 20 years, both cervical and lumbar disc replacement have been studied extensively in scientific journals," he said.
Before the introduction of disc replacement surgery, the prevalent choice for treating degenerative disc disease was spinal fusion surgery. Disc replacement surgery offers a number of advantages over spinal fusion. "There is absolutely no study where the artificial disc doesn't compare favorably to spinal fusion in terms of results, complications and cost," Dr. Blumenthal said.
What is Disc Replacement Recovery Time?
Disc replacement recovery time is typically shorter compared to spinal fusion surgery. The minimally invasive disc replacement procedure typically takes one to two hours; most patients are up and walking shortly after surgery and are released from the hospital within one or two days. Individual results may vary.
Who Qualifies for Disc Replacement Surgery?
Keep in mind, not everyone is a candidate for disc replacement surgery. Good candidates for disc replacement typically have back pain due to damage in one or two discs (as opposed to degeneration or disease affecting multiple levels of discs), no significant facet joint disease, no bony compression of the nerves, and a healthy weight. Also, in most cases, surgery isn't recommended until patients have tried conservative, nonsurgical treatments (such as physical therapy or steroid injections) for at least six months, without relief.
What Patients Should Know
Patients can boost their chances of success by choosing the right procedure with the help of an experienced surgeon. Consider these factors as you weigh your options:
Experienced surgeons. Disc replacement surgery was approved by the FDA in 2004. In the past 22 years, physicians on the medical staff at THCDS have performed more than 4,000-disc replacements.
Careful screening. It's important to choose a surgical practice that screens patients carefully. At the Center for Disc Replacement, the surgeons require patients undergo diagnostic procedures including x-rays, an MRI, a CT scan, and for some patients, a bone density test. These tests can help determine whether the patient is a good candidate for disc replacement.
Customized approach. Currently, there are several FDA-approved artificial discs commercially available in the United States. Ideally, your surgeon will recommend the device that is best for your needs. The surgeons on the medical staff at THCDS are thoroughly trained on multiple devices, giving them the flexibility to choose the appropriate disc for each patient's needs. They are also experienced in performing spinal fusion surgery in cases where that procedure is recommended.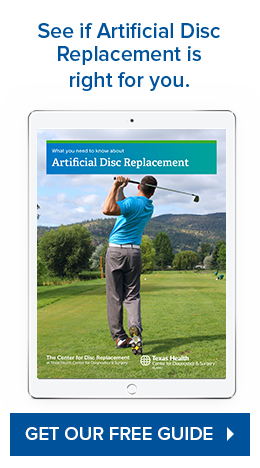 Realistic expectations. Choose a surgeon who sets realistic expectations rather than overpromising. Know that most patients can expect improvement of lower back pain and disability in weeks to months following surgery. However, it's important to understand, studies show that lumbar disc replacement improves but does not always completely eliminate pain. Patients undergoing cervical disc replacement often experience immediate and near or total pain relief. Talk to your surgeon to understand what you can realistically expect. Individual results may vary.
Finally, understand as a patient, you have a role in the surgery's chances of success. Follow your surgeon's instructions for post-operative care and recovery carefully. When you work in close cooperation with your medical providers, you maximize your chances of success.