Whether you are a patient or visiting a patient at Texas Health Center for Diagnostics & Surgery, here are a few things that can make your visit more enjoyable: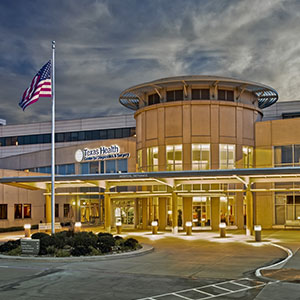 Visitor Hours: Visitors are welcome because we know they can be helpful in recovery. There are no set hours for visiting, but we recommend visiting between the hours of 9:00 AM and 9:00 PM (the front doors of the hospital open at 5:00 AM) Children are welcome to visit patients. Please be considerate and keep your visit brief if the patient is in pain or in need of rest. One visitor is allowed to spend the night. Each private room is equipped with a small daybed that folds out.
Meals: Texas Health Center for Diagnostics & Surgery does not have an on-site cafeteria. On the day of surgery, we offer an immediate family member of our patients a complimentary boxed lunch while they wait. Families and visitors may also have meals delivered from local restaurants. To view a list of surrounding restaurants, click here.
Local Hotels: There are several hotels that are located near the hospital.  See Area Hotels tab on left navigation bar for more information. 
Coffee Bar: Located in the hospital lobby, we welcome guests to enjoy our complimentary coffee bar with refreshments in the mornings and warm cookies in the afternoon.
Vending Machines: Vending machines are located in the hospital near our Radiology waiting area.
Tobacco and Smoke-Free Environment: For the health and well-being of our patients, visitors, employees and physicians, Texas Health Center for Diagnostics & Surgery is a tobacco and smoke-free campus.
Parking: Parking for patients and visitors is available near the front entrance of the hospital, 24 hours a day, seven days a week. All parking at Texas Health Center for Diagnostics & Surgery is free of charge.
Wireless Internet Service: Wireless Internet is available throughout the hospital. We also offer several charging stations that may be used to charge mobile phones and other devices.