Information For While You Are With Us
Whether you are a patient or visiting a patient at Texas Health Center for Diagnostics & Surgery, here are a few things that can make your visit more enjoyable: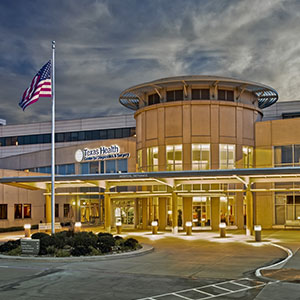 Visiting Hours: Texas Health is committed to keeping patients, visitors, and care team members safe. Our visitation guidelines aim to protect our patients and staff, while providing a safe environment for all. Normal visiting hours are from 7:00 AM and 7:00 PM (the front doors of the hospital open at 5:00 AM).
Visitors Must
• Be at least 16 years old
• Pass COVID-19 screening upon entry to the facility
• Keep a safe distance from others
• Follow all hospital staff instruction
• Practice good handwashing
• Wear the hospital-provided or hospital-approved face
mask and wristband at all times
Inpatient Services: Patients staying on our inpatient unit may have 2 visitors at a time within normal visitation hours who meet COVID-19 screening criteria.
Outpatient Services: Up to 2 support persons may be allowed, based on entity volume and capacity. No restrictions on visiting hours. 
Please be considerate and keep your visit brief if the patient is in pain or in need of rest. One visitor is allowed to spend the night. Each private room is equipped with a small daybed that folds out.
Coffee Bar and Meals: We welcome guests to enjoy our complimentary coffee bar in the main lobby where coffee and hot tea are offered.  The hospital does not have an on-site cafeteria so it is recommended that family members bring food items with them or purchase from vending machines on site. Several restaurants are located near the hospital for meal delivery or pickup.  
Local Hotels: There are several hotels that are located near the hospital.  See Area Hotels tab on left navigation bar for more information. 
Tobacco and Smoke-Free Environment: For the health and well-being of our patients, visitors, employees and physicians, Texas Health Center for Diagnostics & Surgery is a tobacco and smoke-free campus.
Parking: Parking for patients and visitors is available near the front entrance of the hospital, 24 hours a day, seven days a week. All parking at Texas Health Center for Diagnostics & Surgery is free of charge.
Wireless Internet Service: Wireless Internet is available throughout the hospital. We also offer several charging stations that may be used to charge mobile phones and other devices.