Weight Loss Surgery
If you have tried various diets and nothing has worked, consider weight loss surgery at Texas Health Center for Diagnostics & Surgery. Weight loss surgery is recognized as an attractive and viable treatment option for those who are morbidly obese. According to the National Heart, Lung and Blood Institute, millions of Americans and people worldwide are overweight or obese. Being overweight or obese puts you at risk for many health issues such as:
- Coronary heart disease
- High blood pressure
- Type 2 diabetes
- Certain cancers
- Breathing issues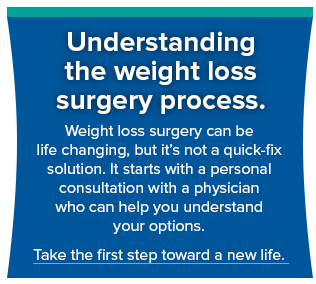 The physicians associated with the hospital's program have performed thousands of weight-loss surgeries.  Contact us by phone at 972-403-2808, or email weightloss@thcds.com, if you have any questions or if you are ready to schedule a consultation. Together, we can find the option that is best for your needs and begin the process of redefining your life!