Total Joint Replacement
Many patients choose joint replacement surgery to reduce pain, restore function in diseased joints and improve the quality of their life. At Texas Health Center for Diagnostics & Surgery, our joint replacement program is led by board-certified physicians and dedicated clinical staff who will walk you through every step in the process. Whether you need a knee or hip replacement, our team can assist you with:  
Scheduling consultations with a joint replacement specialist

Pre-surgical education for you and your family members

Post-surgical education

Home care recommendations and other support   
Ask your surgeon if a total or partial joint replacement is right for you. For more information, click on the links below.
To schedule an appointment for a consultation, call (972) 403-2843.
Download our free E-book on joint pain: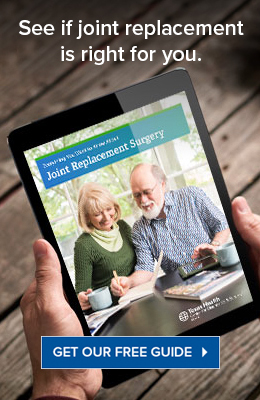 Considering joint replacement at Texas Health Center for Diagnostics & Surgery?  Check out our videos below: