Is Robotic Surgery right for you?
Talk with your physician about the da Vinci Surgical System and minimally invasive surgery
Surgeons at Texas Health Center for Diagnostics & Surgery perform minimally invasive, robotic surgery using the da Vinci® Surgical System. da Vinci is beneficial for performing a wide range of routine and complex surgical procedures, including cardiac, colorectal, general, gynecology, head & neck, thoracic and urology surgeries.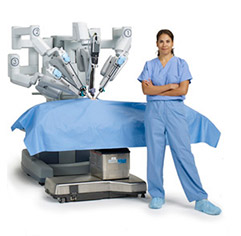 With da Vinci, small incisions are used to insert miniaturized wristed instruments and a high-definition 3D camera into the surgical site. Seated comfortably a few feet away at the da Vinci console, your surgeon is 100% in control of the da Vinci System, which translates his or her hand movements into smaller, more precise movements of tiny instruments inside your body. Although it is often called a "robot", the da Vinci System cannot move or operate on its own - the surgeon is 100% in control.
For many, surgery performed using the system has a number of benefits including smaller incisions (smaller scar), less pain, less blood loss, shorter hospital stay, quicker recovery and a faster return to normal activities.