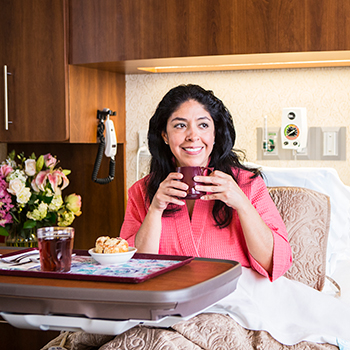 At Texas Health Center for Diagnostics & Surgery, we understand that an impending medical procedure may present feelings of nervousness or anxiety. Our health care team is driven by compassionate care and is ready to make you and your family feel as comfortable as possible.
Before Surgery
Pre-Testing Appointment
If you have not done so, please schedule any pre-tests (lab work, etc.) with us if your physician requires it. You may schedule an appointment by calling (972) 403-2700 (on-line scheduling coming soon).
Night Before Surgery or Special Procedure
Do not eat or drink anything (including water), smoke or chew gum after midnight the night before. To do so may delay or cause complications during and after your procedure. You may brush your teeth the morning of your procedure but do not swallow any water.
Day of Surgery
Parking is free and is located directly in front of the hospital. The front doors of the hospital open at 5:30 a.m. and our front desk personnel check in patients beginning at 6:00 a.m.
Unless specified by your physician, please plan to arrive at least an hour and a half prior to your procedure time.
Please bring a driver's license or government issued identification as well as your insurance card.
After checking in, our staff will verify important information with you and have you sign consent forms that acknowledge your permission for the procedure. If the patient is a minor, the forms must be signed by a parent or legal guardian.
Do not wear contact lenses. You may wear eyeglasses (and wear dentures) until you are prepared for your procedure.
Wear loose-fitting clothing that can be easily folded and stored. Leave jewelry and valuables at home.
Children may bring a special toy, blanket or pacifier. Parents of small children should also bring an empty bottle and a clean diaper.
If you are taking medication for asthma, blood pressure, diabetes, cardiac reasons or blood thinners, please consult with your physician on taking these medications the day of your procedure. Additionally, notify your physician if you are taking over the counter medications such as aspirin, ibuprofen or herbal supplements. Please bring your medications you are taking in the original container and inform your physician or pre-operative nurse regarding any treatments or equipment currently being used at home.
The anesthesiologist will discuss your anesthesia options with you prior to your procedure.
After Surgery
After the procedure, you will recover and be monitored by a registered nurse. Actual recovery time is different for each individual.
We will assess your pain level after the procedure. Our goal is to work with you and your physician to make you as comfortable as possible.
If you are scheduled to go home the day of the procedure, a nurse will review your physician's discharge instructions with you and a family member. You will not be permitted to drive after the procedure and must have someone take you home.
Do not drive, operate machines or drink alcohol beverages or take medications other than those prescribed by your physician for a least 24 hours after your release.
It is normal to feel dizzy and sleepy for several hours after your surgery. It is best to have someone home with you for the first 24 hours after your discharge.
Do not sign any important paperwork or make critical decisions until the effects of the anesthesia have worn off.
You will receive a call by a hospital nurse following your procedure to check on your recovery.
Any questions or concerns following your surgery should be addressed with your physician. Contact your physician if:

You have a fever over 101 degrees
Nausea with excessive vomiting (three or four times)
Pain not relieved by pain medication
Inability to urinate
If Your Procedure Requires an Overnight Stay

Following surgery, personal items may be brought to your room.
Medications brought to the hospital for your use should be in their original container and labeled with your name.
One guest may stay overnight with you. Each private room is equipped with a daybed (linens are available upon request). A parent is encouraged to spend the night with a child less than 18 years of age.
Meals are provided three times a day for overnight patients. Guests may bring in meals or order meals for delivery.


Guest Information
Communication
Family members may wait in the main hospital lobby during your procedure. Our patient-family liaisons will communicate with them on your status and when you will be either discharge or moved to an inpatient room.
Coffee Bar & Meals
A complimentary coffee bar is located in the main lobby. A boxed lunch is offered to immediate family members, free of charge, during lunchtime. Family members and guest may also order meals for delivery from local restaurants.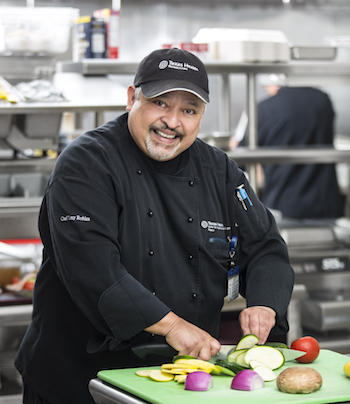 Local Hotels
There are several hotels near the hospital that provide a medical discounted rate. You may find a list of those hotels on our website.
Tobacco & Smoke-Free Environment
For the health and well-being of our patients, visitors, employees and physicians, Texas Health Hospitals are all smoke-free.
Visitor Hours
Visitors are welcome at any time. However, we recommend the hours of 9:00 a.m. to 9:00 p.m. for visitation. One visitor may stay overnight.
Wireless Internet Service
Wireless internet service is available throughout the hospital. Additionally, there are two charging stations in the main lobby for cell phones and other devices.
Hospital Information
Texas Health Center for Diagnostics & Surgery is accredited by The Joint Commission, an independent, not-for-profit organization that accredits and certifies health care firms and is recognized nationwide as a symbol of quality that reflects an organization's commitment to meeting certain performance standards.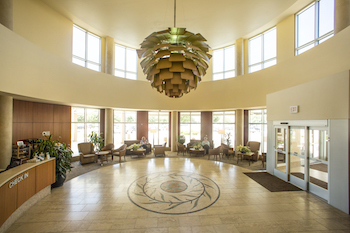 Contact Information
Main Hospital Lobby: (972) 403-2700
After Hours: (972) 403-2740
Radiology: (972) 403-2705
Email a Question: (TBD)
Hours of Operation: 6:00 a.m. to 6:00 p.m.
Finding Us
Texas Health Center for Diagnostics & Surgery 
6020 West Parker Road
Plano, Texas 75093
Directions
Parking
Parking is convenient, abundant and free at Texas Health Center for Diagnostics and Surgery. Unlike large, metropolitan hospital complexes with confusing parking garages, our facility is easy to navigate and provides plenty of parking spaces available just steps from the front entrance.
You'll also find a convenient, covered drop-off/pick-up area directly in front of our main entrance. Our parking lot is monitored by 24-hour security so that you and your guests can relax and focus on peaceful well being throughout your stay. 
Check-In Information
Establishing Your Arrival Time
On the day before surgery, you will receive a call from your surgeon's office to assign your arrival time at Texas Health Center for Diagnostics & Surgery.
On the Day of Surgery 
On the day of your procedure, please enter through the front Parker Road entrance.  Please check in at the front admitting desk in the hospital lobby.  You will be instructed where to wait for a Patient Access representative to:
Review your insurance information
Check your photo ID
Update your records, if necessary
Collect any co-pay or deductible
Complete regulatory forms (Terms and Conditions of Service and Privacy Notice)
For your protection, we may ask the same questions at each visit to ensure our records are accurate.
Photo Identification
People often ask why we need to see a photo ID. We do this for two reasons: First, we are required by federal law to verify patients' identity. Second, identification verification is a safeguard against medical identity theft. Medical identity theft is using someone else's personal information to obtain medical services. We appreciate your cooperation with this process.